Customizable necklace for you, your family and your acquaintances.

Consisting of a customizable drop-shaped medallion hanging from a chain, you can make it an ideal gift.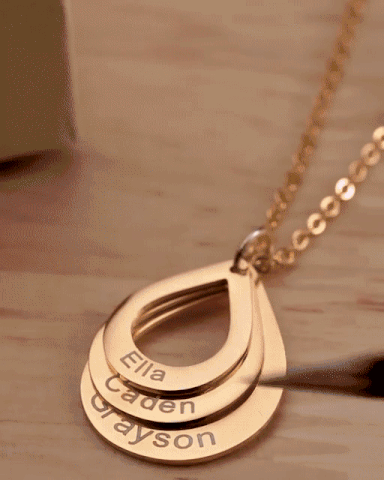 ✨✨ You can offer it between friends as proof of friendship or between sisters as a testimony of your sisterly love.

💘💘 Can be given to mothers with children's names engraved on it or to grandmothers with grandchildren's names.

✨✨ You can also offer it to yourself and engrave your name, that of your love, those of your family members or people who are dear to your heart.
💘💘 First names, little sweet words or little declarations of love (…), you have an infinite number of personalization choices depending on the use you want to make of it and the message you want to send.

Important: You can engrave 1, 2, 3, 4, 5, 6, 7, up to 8 First Names. You can engrave sweet words like "Love" or symbols like heart "♥" on it; It's your turn ! You can also have these necklaces without engravings.

Just tell us what to engrave and you'll be served.

Order yours now.

Our jewelry is water resistant and will not oxidize over time.
Enjoy a free velvet belt, no strings attached! Your gift will be packaged with your order. It's our way of saying thank you for shopping at Metajewelr.